Interested in opening a Chase Savings Account? Read this Chase Savings Account review to find out if it's the right place to keep your money.
Our articles, research studies, tools and reviews maintain strict editorial integrity; however, we may be compensated when you click or are approved for offers from our partners.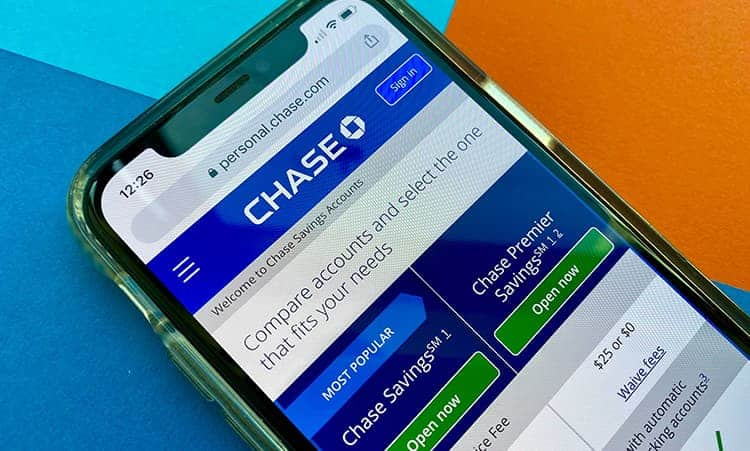 As one of the nation's largest banks, Chase offers a variety of products for savers who want to grow their money over time with interest.
The Chase Savings Account is an option you might want to consider if you are looking for a new place to store your hard-earned money.
The Basics of the Chase Savings Account
Here are some of the top things to know about this account:
Deposits earn interest, which is compounded and credited monthly.
A single annual percentage rate applies to all balances.
There is no minimum amount required to open an account.
Monthly service charges may be waived by meeting certain conditions.
An automatic savings program is available.
Accounts are accessible at 16,000 ATMs and over 4,700 branches.
Mobile, online and SMS banking services are included.
You don't need to be an existing Chase customer to open an account.
At a glance, these are all great features to have. Before opening a savings account with Chase, however, it pays to take a closer look at the pros and cons.
Compare Chase Savings to other savings accounts
Some savings accounts offer tiered rates based on your balance. This account, however, offers a flat rate on all balances.
As of November 18, 2021, this rate is 0.01% Annual Percentage Return (APY). This is comparable to what you will find with many of Chase's competitors of the big banks.
To put the APY in perspective, the national average savings account rate is 0.09%. So the interest you could earn with this savings account is below average, but that's not necessarily unusual.
It is possible to find savings accounts online that pay a higher rate of interest. Ally, for example, is one of the banks that consistently offers one of the best rates for online savings accounts.
Online banks may also offer higher rates on other savings products, such as money market accounts or CDs.
The trade-off is that you don't have a branch that you can visit. However, it might not matter if you already do most of your money management online.
Chase Savings vs Chase Premier Savings Account
The Chase Savings Account is a basic savings option. The Chase Premier Savings Account may be worth a look if you want a higher rate.
The rates on this account are scaled based on your balance and the status of your account.
The rate for Premier Standard accounts is 0.01%. But you can earn the Premier Relationship rate of 0.02% if you:
Link your savings account to a Chase Premier Plus or Chase Sapphire chequing account.
Complete at least five customer initiated transactions during a monthly statement period using your linked checking account.
This account also has a monthly service charge. The fees are $ 25, or $ 0 if:
You maintain a daily balance of $ 15,000 or more, OR
You link a Chase Premier Plus Checking or Chase Sapphire Checking account.
If you are a super saver, you will get more interest from a Premier account. But you could still get a head start by saving in a high yield online savings account.
Chase Savings Account Monthly Fee
You are more likely to pay a monthly service charge for a savings account at a traditional bank than at an online bank. Chase is no exception.
The Chase Savings account comes with a standard monthly service fee of $ 5. The good news is that there are ways to reduce that to $ 0.
You can avoid paying the fees by fulfilling one of these conditions each month:
Maintain a balance of $ 300 or more per day.
Make at least one repeated automatic transfer of $ 25 or more from your personal Chase account.
Link a Chase College bank account to your savings for overdraft protection.
Add an owner to the account who is under the age of 18.
Link a Chase Better Banking Checking, Chase Premier Checking, Chase Premier Plus Checking, Chase Sapphire Checking, or Chase Private Client Checking account to your savings.
If you're already a Chase Checkout customer, avoiding the fees shouldn't be too difficult.
And if you haven't used Chase yet, you can open a new checking account to link to your Chase Savings Account. The other option is to make sure you keep an average daily balance of $ 300 or more in savings.
By the way, this account can be useful for parents who want to introduce their children to savings. You can add your child to the account to avoid fees while they learn the ropes of savings and interest.
Other Chase Savings Account Fees
Whenever you're looking for a savings account, it's a good idea to check out what other fees you might be paying.
Chase charges a savings withdrawal limit fee of $ 5 for each withdrawal or transfer from your account over six per statement period.
Savings accounts are subject to federal regulations on the number of withdrawals you can make each month. You are limited to six in total.
There are two exceptions to the six withdrawal limit. You will not be penalized for withdrawals or transfers made in person at a branch or ATM.
If you exceed the limit of six withdrawals, Chase may charge a fee for each additional transaction. The charges apply to any excess withdrawal you make.
Your savings account can also be converted to a Chase Total Checking account.
There are no other service charges associated with the Chase Savings account, but you will need to be careful with ATM fees. If you use an ATM other than Chase, you will pay:
$ 2.50 for any request, transfer or withdrawal in the United States, Puerto Rico and the United States Virgin Islands.
$ 5 per withdrawal and $ 2.50 for any transfer or inquiries at ATMs outside the United States, Puerto Rico and the United States Virgin Islands.
The ATM owner may also charge you a fee, so it pays to stick with Chase ATMs as much as possible.
Access your Chase Savings Account
If you're using your savings account as an emergency fund or for a long-term financial goal, you'll want to be able to get your money back when you need it.
Chase allows you to access your savings account in the following ways:
Online banking services
Mobile banking
Text banking
You can manage your account at 16,000 ATMs and over 4,700 branches.
If you want to make a deposit, you can do so through Direct Deposit or Chase QuickDeposit. Simply take a photo of your check through the Chase app and you are ready to go.
You can link your Chase savings to a Chase checking account or to a checking account at another bank. From there, you can set up automatic recurring deposits to your account to grow your money.
The auto-save feature is designed for automatic transfers from a Chase checking account to savings. You can set up automatic deposits online at Chase.com or through the Chase mobile app.
It's up to you to set the rules for transfers.
For example, you can set them up to recur on a weekly or monthly basis on a specific schedule – or, you can set up transfers only when you get a deposit to your checking account.
Other online and mobile banking features include:
Hunt QuickPay with Zelle
Account Alerts
Paperless returns
Online bill payment
If you need help with your account, you can go online or call 24-hour customer service.
Is a Chase Savings Account Right for You?
You may want to consider a savings account with Chase if you already have a checking account with the bank and want to keep it simple.
You will earn interest on what you save, and the auto-save feature comes in handy for increasing your balance. Plus, you'll have convenient access to your money at Chase's extensive branch and ATM network.
On the other hand, this savings account might not be the best choice if you want to earn big interest.
The 0.01% is well below what you might find at other banks, especially those that offer savings accounts online. Other than that, you are less likely to pay service fees with an online banking.
If you're not sure which savings account to choose, Chase or whatever, ask yourself what matters most.
Saving with Chase may be appealing if you just want to park your money for a while and aren't focused on the interest rate. And you might want to stick with Chase if you've been a loyal customer for a while.
Taking the time to compare all of your savings options can help you find the right account for you.